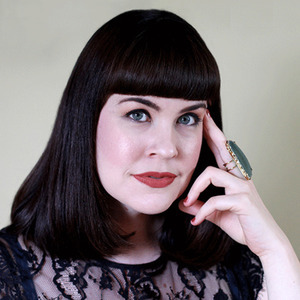 Caitlin Doughty
Special guest
Caitlin Doughty is a mortician, activist, and funeral industry rabble-rouser. In 2011 she founded the death acceptance collective The Order of the Good Death, which has spawned the death positive movement. Her books Smoke Gets in Your Eyes and From Here to Eternity were both New York Times bestsellers. She lives in Los Angeles, where she runs her funeral home.
Born on a balmy August evening on the decidedly un-morbid shores of O'ahu, Hawai'i, Caitlin was an even-tempered, bookish child. Her parents had little reason to believe that she would ultimately seek a life tiptoeing the line between the living and the dead. It was only when she began to ask the pertinent questions that her parents suspected a proclivity toward the macabre.
(Example: "Mommy, if I was on the edge of that cliff and I fell off and on the way down screamed, 'Mommy, Mommy, I need you Mommy why won't you help me,' and then smashed my body on the rocks, would you be sad? Yes or no, Mommy?")
After high school, she fled east to the University of Chicago, where she graduated in medieval history. Her thesis, entitled "In Our Image: The Suppression of Demonic Births in Late Medieval Witchcraft Theory," is the summer must-read for all lovers of demon sex and the late medieval church.
After graduation, Caitlin moved to California, where she has worked as a crematory operator, funeral director, a body-van transport driver, and returned to Cypress College for her second degree, in mortuary science. Unhappy with the state and offerings of the American funeral industry, in 2015 she opened her own alternative funeral home, Undertaking LA, to help people help themselves (handle a corpse).
Caitlin's webseries "Ask a Mortician" and her work to change the death industry have led to features on National Public Radio, BBC, The New Yorker, Vice, The Atlantic, the New York Times, and Forbes.
She frequently gives talks on the history of death culture, rituals, and the funeral industry, presenting for groups as diverse as the TED, SXSW, The Upright Citizen's Brigade, and universities and libraries all over the world.
Caitlin Doughty has been a guest on 1 episode.
October 17th, 2019 | Season 1 | 17 mins 14 secs

Author and Funeral Director and host of Ask A Mortician Caitlin Doughty joins me to talk about her book Will My Cat Eat My Eyeballs? (ISBN 039365270X) and other things she has learned about death and dying in her career.